Keith Vs. John at the Victoria Masters Meet - 12 March 2005
| | | |
| --- | --- | --- |
| | John | Keith |
| 400 IM | 6:16.23 | 6:14.46 |
| 50 Back | 39.89 | 40.53 |
John interviews Keith about the Classic Battle in the 400 IM
This meet was the third of the 2005 "Keith vs. John" Battles. At Duncan, there was a 2-2 split even though John's victory in the 200 Free was decisive. At the English Bay meet held at UBC, there was only one common event which was the 400 IM because their representatives had problems negotiating. Keith won easily as John had just climbed out of the water from a 200 Breast. Also, Keith has 'rolled out' a new Speedo Fastskin suit to tighten and cover his legs!
Here, at the Victoria Masters meet, John and Keith were able to agree on 2 events to go head-to-head in. As things worked out, another swimmer entered a time between John and Keith's in the 400 IM. This resulted in them being seeded one beside the other in Lanes 1 & 2. Not to be outdone by Keith's suit at the previous meet, at this meet John was unveiling a new Speedo High Neck Fastskin. The stage was set for another classic duel!
JJM Well Keith, after my decisive win in the head-to-head 200 free at Duncan, you came back strong at the EBSC Meet in the 400 IM. Even considering my excuse of being tired from having just completed my 200 Breast, you took control of that race. What was going through your mind as you got set for this Long Course 400 IM?
KK What was going through my mind in that 400 IM? My first thought was "Why am I doing this event?" After all, your 200 Breast was kind of like my 200 Back. It is a lot different swimming long course than short course. Your 200 Breast was better than last year, but my 200 Back sucked big time. I wasn't very confident of having a good swim.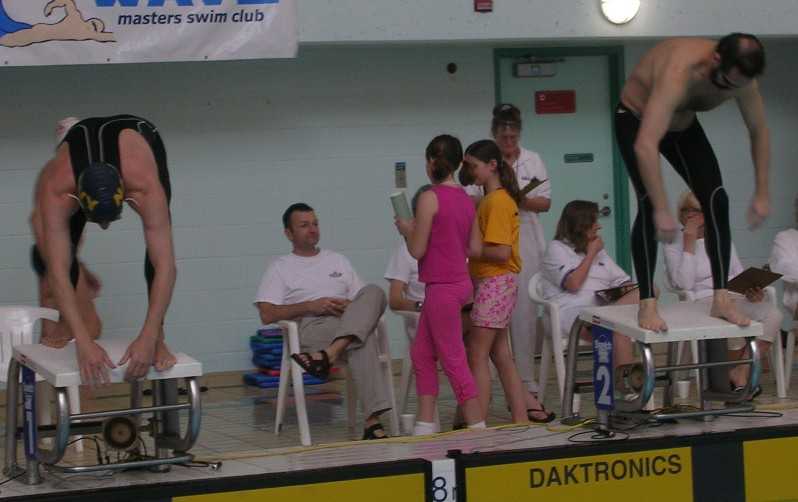 The combatants prepare for the start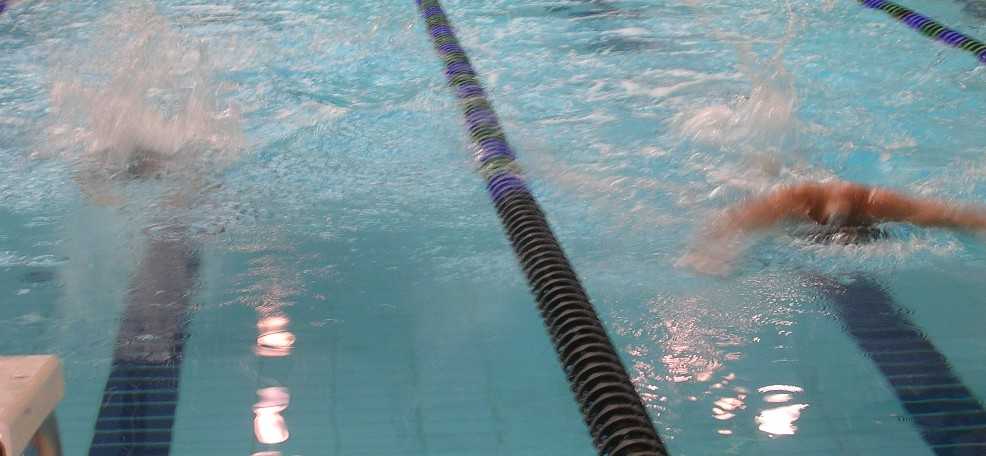 Keith gets a lead in the first length of the Fly
John gets back in the race in the Back

John sneaks a peek as Keith pulls ahead again in the Breast
John closes the gap after the Free turn
John congratulates Keith on an excellent race
JJM It seems to me that you went a little slower than normal in the Butterfly, and then you seemed to relax in the Backstroke. But you came on strong in the Breaststroke and negative split that portion. Was this in your race plan?
KK I negative split that 100 Breast? Really, I haven't seen my splits yet other than the Fly (37 & 44). I dove off the block and gave a yell which I hoped everyone heard. (can you get disqualified for that?) I started the race, as usual taking it easy in the fly trying to feel lighter than air. Only that, at the wall after 50 Fly, I was exhausted! That is not what you want to feel like at this point in a 400 IM!
I slowly made the turn and could see that you were only slightly behind me. That really surprised me. You must have a very fast Fly. I figured 4 seconds, not 2. Of course I pulled away in the next 50 of Fly, but I could hardly get my arms out of the water. It felt like the end of a 200 Fly! The split was a 1:21 which is about right for this event, but I thought I would let you get back in the race. So, I made a very slow turn and stroked a very slow Back for the first 25 meters to let you catch up.
That kind of was my game plan. I had talked strategy with Tony before the race, and I figured I would rest big time in the Back for dividends in the Breaststroke and staying power in the Freestyle relative to you.
KEITH KENDAL
43
VICTORIA MASTERS SWIM CLUB
6:10.00
6:14.46

| | | | | | | | | | | | |
| --- | --- | --- | --- | --- | --- | --- | --- | --- | --- | --- | --- |
| Dist | Run | Split | Dist | Run | Split | Dist | Run | Split | Dist | Run | Split |
| 100 | 1:22.38 | 1:22.38 | 200 | 3:07.08 | 1:44.70 | 300 | 4:52.27 | 1:45.19 | 400 | 6:14.46 | 1:22.19 |

JOHN MCMANUS
50
NAVY MASTERS SWIM CLUB
6:30.03
6:16.23

| | | | | | | | | | | | |
| --- | --- | --- | --- | --- | --- | --- | --- | --- | --- | --- | --- |
| Dist | Run | Split | Dist | Run | Split | Dist | Run | Split | Dist | Run | Split |
| 100 | 1:26.8 | 1:26.80 | 200 | 3:07.08 | 1:40.28 | 300 | 4:57.57 | 1:50.49 | 400 | 6:16.23 | 1:18.66 |
Which you did, and I think you got a head of me by about the 25 m point into the back!
After that I thought, "Jeez maybe I have goofed up this race!" I can't let you beat me! I own this event… it is a given that I beat you… I have never lost an IM race to you yet!! So, I picked up the pace and tried to just keep up to you. I think I got to the wall at the end of the 100 Back at about the same time. I figured I was toast, because when you are that close to me, it is generally impossible for you to let me pull away. Plus, I know that deep down, you have faster Breaststroke times than me.
From looking at the pictures of us approaching the Breaststroke turn, I got maybe another second at the most. But what happened to you in the next 50 of the breast? I must have really pulled away…. Something happened John, maybe you could enlighten our reading audience of what happen to you at the 250 mark in this race. Did you start doubting your self at that point in the race?
JJM Well Keith, early on in the Breaststroke portion, I thought to myself "I can win this race!" At the 250 point, I was getting extremely tired, and I was hoping that your Breaststroke would take its toll. But instead of slowing down, you picked it up. In the first 50 of the Free, I tried to reach down and get the same energy that I had in the last 100 of the 1500 at Nationals last year. After the final turn in the Free, I came off the wall very streamlined and gained a bit on you. Our history shows that if I have you close in the last length, you are in trouble! I continued to gain a little until there was about 30 m to go. At that point, you seemed to sense that I was gunning for you and you reached down for a little extra. Was that the extra that you saved during the Backstroke?
KK Cool! That is exactly how I felt - the 'race' was in the last 50 m. I went into the 100 Free and saw that I had a least 4 seconds, and I figured I would stroke the first 50 Free with long strokes, let you catch up a bit. Anyway, I approached the turn and saw you, and thought to myself "Jeez I should have about 4 seconds on you". After the turn, I saw that you had closed to about 2 seconds. With 35 m left, I realized that my pace was matching yours, and you could not close any more. VICTORY was never more assured.
I knew it wasn't a great time for me (about 11 seconds too slow), but it had to be a good swim for you. So that was I, giving you a congratulatory handshake at the end of the race for your efforts!

The scoreboard tells the story - Keith wins the 400 IM
Well sports fans, Keith has masterfully avoided swimming against John so far this season, swimming all these Breaststroke, IM and Backstroke events. But, so far this season, we have had a small taste of the Free events ranging from the 50 to the 400 Free.
We have witnessed the incredible well-balanced 400 Free that both swam against each other at UBC, with John the victor. They both swam personal bests! We then saw Keith beat John in a match up in the 50 Free by 1/100th of a second. It doesn't get any closer than that! (we have never seen Keith beat John in a 50 Free before!)
We have seen the 200 Free at Cowichan, where John had lane 1 and Keith Lane 6 - outside smokers! Well we saw some smoke coming out of Keith in the first half of that race, he split that at 1:06.8! (He doesn't swim the 100 much faster) However, we watched that smoke fizzled and witnessed Keith's total uncharacteristic collapse at the 100, finishing this race at 2:30. Keith had some explaining to do. I hear he complained of very tired legs, due to too much kicking going into and out of the first three turns! John plugged along in a perfect gear, and was in a race with the eventual winner of this heat and swam a personal best of 2:23.9! Keith had a lot of explaining to do, and he showed up the next meet with technology at his side wearing a Fastskin Legskin, matching technology employed by John throughout the season. Keith swam a great swim for the 200 Free at English Bay meet swimming a 2:22.22. So, we have a match-up in this race to look forward to.
We have seen Keith trying to redeem himself in the 100 Free at Cowichan (soon after that disastrous 200 Free for Keith), but it appeared that after giving John a 3-foot lead in the first length, he closed half of it and was coming on strong, but it was another case of "close, but no cigar" for Keith.
Not to be out done by Keith's adoption of Fastskin technology, John was spotted at the Vic Masters meet wearing a correctly sized "Farmer John" Highneck Fastskin swimsuit. This should give him an advantage in holding that 50-year old stomach in.
Sport fans stay tuned for Provincials and Nationals. John & Keith are going right at it again. If they get in the same heat with close lane assignments we will be in for a battle royal!! They will be contesting the following races: 50 Free, 100 Free, 200 Free, 400 Free, 1500 Free, and 100 Back.
The first event will be the 1500-meter event, with John defending his 1500 National LC record for his 50 to 54 age group. Keith and John are hoping for a closer lane assignment in the same heat this time. This should set the tone for the whole meet.
They are also hoping for other contestants to join them and encourage their efforts! Keith is throwing in his younger brother in the 50, 100 and 200 Free's. The Navy should see Isabelle Pare, Jim Wright, and Paul Arsenault in the 200 and 400 matching up with them as well. Vic Masters should have Julie Barnes joining them in the 200 & 400 Freestyles. John and Keith are hoping to get Roger Barron of Vancouver into these middle distance races as well. We could have a whole heat of 200 and 400 Freestylers mixing it up with no one person the certain winner!
To recap, John wins the 50 metre Backstroke, but Keith wins the classic head-to-head 400 IM. Let the record show that the 25th Annual Vic Masters Meet is officially a TIE! Oh, bring on the BC Provincials in April.