Keith and John battle at the 2005 Canadian Masters Nationals
Well sports fans, the dust has settled on the results for Keith and John at the Nationals in Etobicoke on the long weekend in May. Over the summer, John has been swimming regularly and Keith has been largely a no-show. Keith failed to show up for the first time duel in the 5K open water race at Thetis in July, and failing to get him self registered to swim in the summer swim series against John due to a shoulder injury.
First, we need to see what the combatants were thinking as they prepared for the 2005 Nationals.
Keith: Well, I am pretty pumped for this meet, Iíve talked to John about what I think are our 3 important races:
1. the 400 free on Saturday morning.
2. the 200 free on Sunday morning. I want to see us both get as close to or under 5 minutes in the 400 and under 2:20 in the 200.
3. the 1500 on the first day (Friday). I am worried that it might take a lot out of me (59 tumble turns) and will compromise the 400 and 200 m races in the subsequent days. I was going to enter 800 on Monday instead of the 1500 on the first day, but John talked me out of it, as he figures the 1500 on Friday is two races in one the 800 split and the 1500. I am not worried about John in the 1500 as I pretty well have his number on this race based on my 28-second victory over him at Provincials. But I am worried about the recovery for the next days.
John: No comment!
John must be intensely focused on this 1500!
Day 1 - Friday May 20th 2005
After all the scratches were tabulated, we got a perfect race set up. Keith and John got side-by-side lane assignments and here are the 1500 results:
| | | | | |
| --- | --- | --- | --- | --- |
| | Keith | Previous best | John | Previous best |
| 1st 400 split | 5:04.07 | 5:09.61(UBC-04) | 5:14:10 | 5:07.78 (UBC-04) |
| 2nd 400 split | 5:19.52 | | 5:34.30 | 10 |
| 800 m time | 10:23.59 | 10:56.2 (Jan - 04) | 10:48.40 | 11:02.62 (Ont Prov - 04) |
| Last 400 split | 5:38.12 | | 5:30.25 | |
| 1500 m time | 20:51.19 | N/a* | 20:28.70 | 20:52:80(Ont Prov - 04) |
* only swam this LC in the last 10 years.
Lets talk first the winner of this battle: John what are your thoughts about the race from start to finish?
John: Yeah, that was a pretty good race. I like to thank my coaches and supporters who told me that I could go under 20:30.
Yes, but John, would you please describe the race?
John: Do you realize that I am going on 51 and swimming faster than ever?
Yes John, but can you please describe the race?
John: Yeah, that was a pretty good race, I didÖ donít know what happen to Kendal thoughÖ.
Ah, thanks John. Lets talk to Keith. Keith, you were swimming a fantastic race as evident in your splits at the 400 and 800, but what happen at the 800 m point?
Keith: Man this pool was too warm. It was like swimming at Crystal Pool. You know, Iím one of the only swimmers that do not swim with a cap because of that pool temperature. I wonder if I am special in that regard.
(give me a break: your special all right) Yes but what about that race?
Keith: Here touch my back!
(Ouch. Smoking!!!, you're hot!)
Keith: Yeah, only I wish that translated to what the girls think!
Perhaps if you could just give us a few comments Keith?
Keith: It was weird race. This was the first time John failed to leap ahead of me right from the beginning. I usually have to swim through him in the 400 and 1500 at the 200 m point. This time he seemed to swim it really smart and completed a controlled swim.
Yes, but Keith can you tell us about your race?
Keith: Yeah well, I was swimming a good race against Craig Slater, going stroke for stroke, the American on his other side dropped out at the 300, and it was at that point I start moving ahead of Craig- who was leading the heat. I was thinking Ďkeep it longí, and Ďtuck in the legs at the turní. Rod Craig told me that was Graham Welbournís advice to him on handling the 59 tumble turns in this race. I came out of the turn at the 400, and looked over my shoulder and saw a 5:04 split. I was thinking wow, my best 400 free time ever as a master swimmer, and I was just pacing it! John was a half a pool length behind at that point, so I wasnít even thinking about him. Craig Slater had been sticking to me until the 500 m point and he was not willing to let go. At that point, I was thinking Ďlong stroke, tight turnsí. I didnít really start moving ahead of him until the 700 m point. I think I had about 3 seconds on him. And, it was at that point that I noticed how warm the pool was and how my legs were seizing up. I could feel how slow my turns were getting. I kept swimming and started thinking about tomorrow's 400. I did not know what I was going to do, but I really only made a decision to quit about 5 seconds before coming into the wall at the 800 m point. I was about 7 seconds ahead of Craig when I touched the wall, and it was a good thing that Tony was there to tell me that I had to finish the swim or I would be disqualified. You know, Craig Slater gave me a great compliment after the swim. He said that he tried to match my stroke length in the 2nd 400, but could not. I think that is the first time anyone ever complimented me on any ability in Free at all. The water was just too warm for me. Hey, but lets talk about Johnís race. Do you know that John swam a perfect race, and took off over 24 seconds on his previous best time? I swam the 800, but John swam a tough 1500 race. He didnít quit, and made a huge improvement in his personal best. Before the race, I told him that if he controlled his swim from the start, he should be thinking sub 20:30 and he did it. Iíll tell you what, I will swim this race again. Iíll enter it, but if the pool temperature is not below 80 F, Iíll scratch the race. Ice cold!! That is my perfect race temperature.
Hey John, I was wondering if we could have a few comments from you about your 1500 race?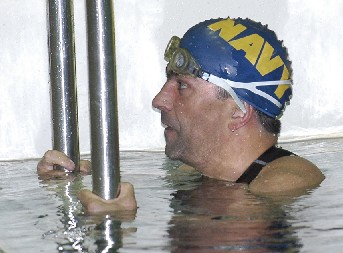 John: Iíve looked at the splits, and I am really surprised at how evenly that I swam the race. Usually, I go out too fast and have to watch Kendal and others swim through me at the 200 m point. Well, Kendal was all over me before we came out to this meet about pacing the race, and staying focused on what I can do: He told me to move into the 40 to 41 second and hold on to it. Suzanne Scriven also tells me I can swim 42 Ĺ seconds splits forever. So, really any performance above a 42 second-pacing would be a disappointing for me. This time, I really controlled the gradual ascent of the splits times and I think that really helped me keep almost all of my splits below 42 seconds. I really felt it at the 600 m point, fought the feeling of collapse to the 750 point and pulled it together. Previously, all of my splits would be near 43 and above at this point. This time I kept them most of them below 42 seconds to the end of the race.
Well John congratulations on this 1500 personal best. We talked to Keith about it this morning, and we understand he has set your next targeted 1500 m SC swim at 20:15. Do you think you can do it?
John: Bring it on, and this time Kendal, you better not quit on me!!!
There you have it folks, personal bests for John in the 800 split and the 1500, and personal bests for Keith in the 400 and 800 splits. The 1500 officially goes to John, and the 800 to Keith. So that is a split victory. 1 for Keith and 1 for John
Day 2 - Saturday May 21st 2005
In the line up for Day 2 are the 400 and 100 Free events. We know that John is ready and pumped for the 400, and Keith wellÖ Keith seems to be really worried about his legs. It seems even after a sports massage by the Navyís own personal massage therapist, he is screwed (ha ha ha). He apparently has a lactic acid build up in his legs and canít seem to shake it.
Like in the 1500 race, we have Keith and John in the same 400 heat, but they are many lanes apart and will have to swim against closer competitors than each other in this race. Keith has told John to watch Hobe Horton who is next to John, as he has swam a lot faster in the past. Hobe also swam a 1500 last night, so everyone should have the same effect from the previous days efforts. Keith is now unofficially the faster swimmer in the 400 for the first time based on his 400 split in the 1500 last night, so Johnís has to be thinking that he has to go a 5:04 minimum to beat Keith.
Lets ask Keith how his race went.
Keith: My legs were really hurting. If I had the use of them just a bit for the last 150, I think I could have gone under 5 minutes. It was a fast race, the heat went out really fast, so you have to hang on to them and trust that they will pull you to the promised land of sub-5 minutes. Fortunately for me, I had a close competitor next to me in lane 6. It wasnít a pretty finish as I went out in a 1:10 which is way faster than Iím use to doing. If I am to go under 5 minutes, then the reality is that I need to go out in a sub 1:10 then a controlled ascent in the splits. The second split was a 1:16, which is a dramatic drop off. It basically tells you that I could not handle the pace. At that point, I had to face the embarrassing situation of posting a time slower than my 400 m split in the 1500, and that is all I thought of after every tumble turn, and oh those tumble turns really drew out what little energy my legs had. I have to go under 5:04, I have to go under a 5:04 etc etc etc. The third split was a 1:18, only a two second drop off, and by then I had no legs left, and I could not match my competitor in lane 6. Iím sure he ended up less than 5 minutes. But it looks like I held in and swam another last split of 1:18. It is a personal best so I am happy with the performance. I know that I can go under 5 minutes now.
| | | | | |
| --- | --- | --- | --- | --- |
| | John | Johnís previous PB | Keith | Keithís previous PB |
| 100 | 1:09.62 | 1:13.09 | 1:09.75 | 1:13.10 |
| 200 | 2:27.69 | 2:31.88 | 2:25.76 | 2:29.70 |
| 300 | 3:49.07 | 3:51.21 | 3:43.63 | 3:46.60 |
| 400 | 5:09.01 | 5:07.78 | 5:01.92 | 5:04.07 |
John any thoughts?
John: Yeah, I really blew the race trying to match Hobe Horton! (4:49). But what choice did I have, with Hobe who looks twice as tall and far more massive than Keith in Lane 2, and me in Lane 1, itís not like I could see anyone else to pace off! Keith was right that Hobe was faster than 5 minutes, but I thought it would be just a little bit better than 5 minutes, not a 4:49! By the time Hobe broke away from me by a body length at the 200, I was toast. I mean I swam the split four seconds faster than I ever had, and it really hit me at the 325m. I had nothing for the last 100. Heck, it hit me at the 200 m point. But IíLL BE BACK KENDAL. YOU WILL NOT LEAVE ME BEHIND IN THIS EVENT! I WILL BEAT YOU WHEN I GO UNDER 5 MINUTES NEXT YEAR!
The last event Saturday brings the 100 Free. Keith ends up swimming his personal best for the last five years, a 1:05:43 to Johnís 1:05.88. But, apparently he was convinced it felt like a 1:09! Saying he will never swim a 100 free again. Only later John informs him though the wonders of telecommunication (his Blackberry) that Keith swam a low 1:05, and beat Johnís time.
Day 3 - Sunday May 22nd 2005 - final day for John and Keith
The boys are ready for the 200 Free with another classic side-by-side match up Ė John in lane 3 and Keith in lane 4. John has beaten Keith twice this season in this race (Cowichan and Provincials), although Keith has posted the fastest time (English Bay). Actually, John pretty wells own this race, having beaten Keith at Provincials and the Cowichan meets for two years in a row. Keith beat him at the 2004 Nationals in Edmonton, but they were not in the same heat so it doesnít count. Folks, Keith has to be considered the underdog as he has been whining now for two days about his legs and the pool temperature, we think that his head isnít quite right. Plus, Johnís performances to date have been pretty good. We have no reason to believe that Johnís superior sprinting will not come into play going in the last 50 m in this race.
The results are in, and you are not going to believe this race. It was a barn burner, perhaps the most entertaining race the two have ever had. Keith almost improved his personal and seasonal best time, but not quite, John did swim his second personal and seasonal best time of a 2:22.75. They both now have personal bests in the 2:22+ going into the next season.
Lets go over the race. Last year at 2004 BC Provincials, John flew off the blocks forcing Keith to play catch me if he can. We all know that Keith almost caught up at the 125 and then faltered - blaming his legs and bum muscles. We all know that the next time they raced each other earlier this year at Cowichan, Keith went off at the start swimming a 1:06.8 split only to collapse yet again blaming his legs, and John swam a cool even swim to a 2:23 personal best. (Keith, you are going to have to do something about those legs!!!) Well, in the trend of flip-flop strategies, this time John led off the race splitting a 31.87 to Keithís 32.33. John is 2.3 seconds ahead of the split time (34.18) in Keithís personal best time at English Bay. By the same token, so is Keith. John is 6/10ths of a second over Keith. The second 50 will determine if we have a race or not. John splits a 1:07.46 to Keithís 1:07.49. It appears that Keith has recovered from John quick start. The only question we have now is will Keithís legís give up again?
Keith moves into the lead coming out of the 100, and sees flat water where John should be; it looks like John might be toast in this race. The 150 times: Keith's 1:44.72 vs. Johnís 1:45.35. Keith got 6/10ths on John in the third. Perhaps Keithís legs are not a factor this time. I suppose John has to be thinking he canít lose this one, because if he wins this race, and knowing he will win the 50, he can call it a tie over the course of the meet for the free events: the 50, 200, and the 1500 over the 100, 400 and 800 for Keith.
John comes out of the turn and hopes for the best, the best wasnít quite good enough. John was convinced that he had closed the 7th length a bit, but Keith was confident that he had held off John. The Boys are going into the last turn, the last length. Lets ask Keith to describe the last length. Keith?
Keith: Well, first I have to tell you right off the dive my legs told my brain ďdonít even think about using themĒ. That is probably how John got ahead of me. But I tried to swim with as perfect arm movement as I could, and it got me the lead in the third 50. I knew I had absolutely no legs so I pulled and pushed with maximum effort every arm stroke in that last 50. John might have caught up a little in the 7th length, but I didnít feel it and I didnít see it. But going into and out of the turn Iím sure that John closed up half of the gap in that turn. I could now feel him breathing down up me, and of course now Iím on his breathing side. All I could do was to go a 110% with every stroke and minimize any drag caused by those useless legs of mine. John tells me that he could feel his arm enter and get ahead of me, yet I would have the lead by the time my arm entered the water. It was that intense of a race. It doesnít get any better than that.
Well now lets ask John to describe the last 50 of this race. John?
John: I know that I can beat Keith in the 200 Free. I went out like Ďa bat out of hellí just like Provincials in Richmond two years ago, only it didnít work this time. Last time, I got a body length on him, but this time I was only ahead by a ľ of body length. I knew he would close in the 2nd 50. He always does, but what he doesnít realize is that this gives me a chance to rest. But you know we were really swimming fast and I was tired at the end of the 100. I could tell that Keith was even at the 100. I was really surprised when I could not match Keith in the 3rd 50. So much for the ďbat out of hellĒ strategy. I knew that I was in for a tough race, but I did not get through RMC and a military career by quitting! I came out of that final turn knowing I had closed the gap to mere tenthís. The race was going to be mine, yet after each stroke, I could not close the gap. Keith had about a head or so on me. I have to congratulate him on a well-fought race. Iím not disappointed with the loss, it was only by 3/10ths, and I am very happy with my personal best of 2:22.75.
Well fans, Keith won the race with a 2:22.44 to Johnís 2:22.75. They have had races decided by a 1/100th of a second. But I think this was the most entertaining race they have ever had. Letís see if they can swim each other under 2:20 next season.
The last race of note for John was the 50 free. Keith just isnít a factor in this event, unless John is having an off day. And fans John is swimming superbly for this event. At the end of three grueling days for John, he swam a 50 free with some real heavy weights in his age division, and swam an almost personal best of 28.86. (PB: Montrťal in 2003: 28:62) Keith is still a struggling sprinter with a time of 29.67. (Keith, Iíll give you a hint you got to turn over faster, it is not a 1500 m swim race!)
Here is the summary of the meet for John and Keith. Some good races: PB for John in the 1500, 800 split and the 200, close to PB in the 50 and the 400. For Keith the 100, 400 and 800 split were PBs. The 200 and 50 were close to PBs.
Postscript:
John continued to swim in the summer club season and did the 50 & 100 Free PBs of 28.44 and 1:03.66 (previous PBs 28.62 & 1:04.42 in Montreal in 2003). John has obviously made some corrections in his stroke this summer that guarantee Keith will have to further improve in the 200 and 400 if he wants to stay ahead of John.
Keith developed a shoulder impingement in his left shoulder and had to bow out of the 5 km race against John at Thetis Lake this summer. Keith has been sighted at the pool kicking madly in workouts; and we understand he can hold a sub-2 min pace time kicking 100 m with a board, and has been seen on the treadmill sweating profusely. Keep working on those legs Keith! You need it!