Keith and John battle at the 2008 BC Masters Provincials
Well sports fans, another season of Keith and John battling each other and going head-to-head is over. Over the winter of 07/08, John has been concentrating on running and biking while Keith has been swimming regularly and training hard. John said that Keith claimed to have some type of "Bubonic Plague" during the winter months, and entered very few races at UBC and Duncan meets. John accused Keith of "cherry picking" one race and "putting the boots to John" while not swimming a full slate of events.
That all changed at the Ontario Provincials in March 2008. Keith agreed to enter the same 6 events as John - 50/100/200/400/1500 Free and 100 Breast. Unlike previous years where John took the short stuff and Keith took the long races, things have changed since John started triathlon training. John took the 1500 Free, and Keith took everything else including an exciting 50 Free where John went 29.90 and Keith pulled out an impressive 29.48! Unfortunately for the sports fans that follow these races, funds could not be raised to bring the intrepid reporter or the staff photographer to Toronto. Therefore, there is no story. Also, since John is the webmaster and he was soundly beaten, he would not post the story even if there was something written......
We need to set the scene in April to find out why Keith entered the events at the Kamloops BC Provincials that he did after originally promising to swim head-to-head against John.
Keith, can you explain why you pulled out of the 1500 and entered the 800?
Keith: Well, I got very tired from swimming the 1500 on the Friday night in Etobicoke. And, I got beaten. When I got back to the hotel on Friday night with my tail between my legs, I phoned home to have my entries for BC Provincials changed. The 800 was on the last day, and I figured that I would do better in all my events if I did not swim the 1500 on Friday night, and could perform better in the 800 on Sunday. So, I changed my entry for Kamloops and reduced my number of events from 6 to 4.
John: Of course I was unhappy about him bailing out of the 1500 - but his mind was made up. So, I told him that our battle would have to be my 800 split in the 1500 against his 800 time.!
While Keith swam his 800, John sat at the coaching table and compared his 1500 splits to Keith's 800 splits. In the early going, it looked like it would be an easy victory for John - with a 5 second lead at the 150m point. You can see from the table below that Keith never gave up and finally closed the gap in the last 50:
| | | | | | |
| --- | --- | --- | --- | --- | --- |
| | Keith's Time | Keith's Split | John's Lead | John's Time | John's Split |
| 50 | 36.30 | 36.30 | 1.69 | 34.61 | 34.61 |
| 100 | 1:15.90 | 39.60 | 3.47 | 1:12.43 | 37.82 |
| 150 | 1:56.91 | 41.01 | 5.03 | 1:51.88 | 39.45 |
| 200 | 2:37.67 | 40.76 | 4.72 | 2:32.95 | 41.07 |
| 250 | 3:18.89 | 41.22 | 4.38 | 3:14.51 | 41.56 |
| 300 | 4:00.23 | 41.34 | 3.70 | 3:56.53 | 42.02 |
| 350 | 4:41.45 | 41.22 | 2.71 | 4:38.74 | 42.21 |
| 400 | 5:22.94 | 41.49 | 1.90 | 5:21.04 | 42.30 |
| 450 | 6:04.69 | 41.75 | 1.80 | 6:02.89 | 41.85 |
| 500 | 6:46.52 | 41.83 | 1.13 | 6:45.39 | 42.50 |
| 550 | 7:28.42 | 41.90 | 1.15 | 7:27.27 | 41.88 |
| 600 | 8:10.76 | 42.34 | 0.99 | 8:09.77 | 42.50 |
| 650 | 8:53.10 | 42.34 | 1.20 | 8:51.90 | 42.13 |
| 700 | 9:35.32 | 42.22 | 1.64 | 9:33.68 | 41.78 |
| 750 | 10:17.42 | 42.10 | 1.58 | 10:15.84 | 42.16 |
| 800 | 10:57.29 | 39.87 | 0.02 | 10:57.31 | 41.47 |
| 1500 | | | | 20:36.07 | 38.57 |
Lets talk first the winner of this battle: Keith, what are your thoughts about winning by 2/100ths of a second after 800m?
Keith: It was a good 800 for me (Not). I have never swum in the fastest heat before. I do not relish being lapped 3 times in an 800-metre event and that is just about what happen. The bright side is that you don't have to keep count of your remaining lengths. When the bell rings for the leader who has lapped you already twice and just about three times, you know you only have 200 metres left!!!
I dove off the blocks next to Victoria master and fellow teammate Rod Carmichael, and thought I was doing OK at about the 200 metre mark relative to him. It was shortly after this that I was lapped by Brent Hobbs of Kelowna. Then, I was wondering how many lengths I had done at this point. So I got a song in my head that I hummed over an over again "One Day in your Life" by 54-40. You see I figured - hey this is an easy way to count laps…. "One length in your life"…after the next flip turn…. "Two lengths in your life" all the way to the "Eighth length in your life". That makes for a 200 metre swim when going from 1 to 8, plus being lapped a second time by Brent Hobbs, did that twice so by then I figure about 600 metres in the race, and shortly after the bell rang for Brent Hobbs, so knew I only had 150 to go.
Singing that song may have led to a lack of concentration in this race, so by the time the bell tolled for me, I remembered Ryan Cochrane's finishing kick in the 400 free at Olympic Trials, and I sprinted home for a last 50 time of 39.87 beating John by 2/100ths. Not that I was watching the clock!
Yeah, the time was better than the split in Toronto, but not too impressive. I attribute my result to being the lame Rabbit instead of being in a slower heat being the fox chasing the rabbit. Yeah, yeah, I know John, you had the same circumstances in the 1500 on Friday night. Brent Hobbs lapped you, jeez his 17:15 to your 20:36, that's got to be just about 5 times lapped. But like I told you, to compare this weekend's performance in the long events, I have to replace your 16th 50 with your 30th 50 for your 800 metre split time to compare "apples to apples", and you clearly beat me by 2 plus seconds.
Thank you Keith. John, how was your 1500 race and the 800 split?
John: Well, I improved my 1500 time from the swim in Toronto, had no splits over 42.6, and felt good during all 60 lengths. Also, I descended my splits a bit during the final 700. But, it was me that suggested the idea of comparing my split against his final time, so I have to admit that I lost. But, I figured that I would get him in the 50 Free!
Keith, do you have any opinions of why your long distance swims at this BC Provincials and last months Ontario Provincials was way below par. Well let's not mince words…. SUCKED?
Keith. As a matter of fact I do! Four things.
1. The "Bubonic Plague", that John was referring to, kept me out of the water for almost two weeks. I swam an easy 400 free 5:05.4 at UBC in Feb, and had every expectation to be ready for a good performance at Ontario in the 1500. Missing two weeks just left me empty when it cam to racing;
2. I do not think I was concentrating in my training on reaching out and maximizing my stroke rate after that illness, and after watching Ryan swim at Olympic trials, I realized that this lack of training like this was going to hurt me if I swam at my PB race pace (10:23 for a 800 and 20:22 for the 1500). So this factor was entirely my own doing;
3. Ever since I have competed as a master swimmer, I have usually have a huge lactic acid build up in my legs. This usually happens at the 60-metre mark in a 100 metre race, the 125 in the 200 metre race, it has happens numerous times in the 400 and it has happened when I achieved my best 800 metre split at nationals in Etobicoke in 2005 when I swam a 10:23 for my 800 split in the 1500 event. At this BC Provincials was the very first time I got really pissed off with this. I'm starting to think that I will stay away from the 200 & 400 events from now on if I can't figure out how to train for this physical disability of mine!!! For next season, I am engaging in leg workouts as a priority - both in the pool and out of the pool.
4. I'm fat, yeah call me fatty! John now has almost achieved a 15 lb advantage on me. He is about 165 lbs to my 182 lbs. I wouldn't think much of it, except this weight disadvantage is basically around my stomach!! This has gotta count for something!!
John, but can you please describe the race against Keith in the 50 Free?
John: Yeah, that was an excellent race, I was motivated, got off the blocks well and I thought that I had him as we headed into the wall. He pulled up even with me about one third of the way back. I dug in, and thought that I must keep ahead of him. But, it was not to be. I ran out of gas, and had to breathe numerous times on that last 25. Even at the touch, I thought that I might be able to get him. But, my rotation was bad, and after almost touching with my right hand, I pulled out my left hand and slammed it into the wall - too late.
Thanks John. Lets talk to Keith. Keith, you really dug down in this 50 Free, didn't you?
Keith: Well I did beat him in Ontario Provincials, but this was our first side-by-side match since UBC DEC OF 2004. I snuck in coming from behind and nipped John with a better finish - my 29.77 to his 29.78. John has usually swam faster than me, his PB is still way faster but what really matters is racing side-by-side, and who wins that race. I have mostly had John's number for the last two seasons in
most match ups. But for the 50, this was our first side-by-side since that 2004 UBC meet. Last year, I was really focused on this race and swam a PB of 29.25. At Ontario, this year my times were not too bad 29.48 or something.
Well my time of 29.64 to Johns 30.27 would suggest a sound beating I gave John ..doesn't it? The race was a lot closer than the time difference would suggest though. I know I was hyped up for this race, and I was hoping for a PB as well. So we dove in. If you look at the pictures of us getting ready for the start, you will notice that I now have adopted the racing start. And you see from the pictures, I am quicker off the start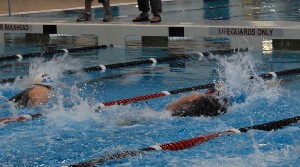 compared to John. We swam the first length even the whole way through. Every time I breathed (twice of the first length) I could see that John and I were shoulder to shoulder. We came into the bulkhead exactly tied. I came out of the turn 6-beat kicking and trying to hold form and swim with a fast turnover. I don't think I accomplished the turnover rate needed for a PB, but knowing that John wasn't ahead of me is to my advantage not his. I know he will breathe virtually every stroke. I didn't breathe coming out of the wall and kept my head down breathing every 6 or 8 strokes, and did not breathe going into the wall. Every time I breathed on John's side I could see that I built up a foot or so on him. With 12 metres to go I knew the race was mine, I had
him by about 2 or 3 feet. The picture shows only about 1 foot though doesn't it!!!
I was a good race for me, and I think next season John and I are going to race this at almost every meet from now on!
Thank you Keith. Now, we need to discuss the 200 Free.
Keith: I can't really discuss this event without discussing the 400 Free early in the morning first. John's performance can be attributed to being tired from the 1500 free the night before. For me, the 400 and later the 200 was suppose to be a redemption swim for me after the poor performance in Ontario Provincials.
I had my pace set right at the beginning of the 400. Out in a 33.66, then a 36.98 for a 1:10.64 100-metre split. But the last four 50s were all in the 39s. I swam a 5:06.2, but I felt my back slightly seizing up at the 200 metre point, but it really was my legs that turned (as usual) very heavy in the thighs. I have been stretching this every day but still it is hurting me in these races. Cindy Maybee suggested that perhaps I should incorporate training to deal with these 15 tumble turns.
The thing is these 200 and 400-metre races are not like the 800/1500 events because you do go into the turns faster and push out harder I guess. So next season, I plan on training my legs. I have already started my dry land training for these bloody pencil legs of mine.
My mind was there for these races, so now I was worried about the 200 free. Well John and I have swum at 2004 Nationals side-by-side, me with absolutely no legs, and I thought that I could at least go a 2:24 or faster, at least that was my expectation before the day started!
John was over in a outside lane, Rod Carmichael on the inside of him (who we all know can swim under a 2:20, but he also was having a slow meet) there was a scratch and then me.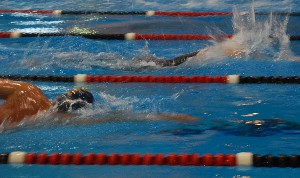 At the end of the first 50 both Rod and John were out slightly ahead of me. (32s for them to my low 33.25) It was an OK split, and I was trying to minimize the use of my legs as usual.
At the end of the next length, I now ahead of Rod and John. I could see that on my tumble turn at the 100. I was thinking oh boy, if I am ahead of Rod he must be hurting. My split was a 1:09.67 to Rod's 1:10.2 and John's 1:10.7 (a bit slow for a PB). After this point, John was no longer a factor. Also after this point my legs starting getting to me, and then my arms. I struggled through the 3rd 50, getting really pissed at my predicament. Rod must have been in the same predicament because, at the 150 when I turned, I could still see that I was ahead of him. That is when the whole body, as usual just shut down. Apparently, my coach said my whole race slowed to a crawl. My last 50 was the same as the 3rd 50 in the 38s, but they need to be in the 36's for a PB. Rod pulled out a 'Ryan Cochrane last 50' and came home in a 34+ split to my 38+. It wasn't pretty!! My legs and arms really were hurting with contractions after that race.
I do not know what John's excuse is, but I'm laying the blame on my performance to the usual culprits: my legs.
Well do you have any last comments about the 2007/2008 season Keith?
Keith: Yeah, it sucked!!! I think John and I losing our MWF early morning training at Naden in January has really hurt us. For John, I know he hasn't been training in the pool at the level he needs to do PBs, or to approach PBs this season. He is putting most of his effort in the running and biking for his upcoming Half Iron Man in June. Do you know he ran a 4:36 pace in his last 10km road race? So, I think it can be safely said John performances can be rationalized. Most people cannot train swimming hard on their own. I know I cannot, and we had pretty good workouts at Naden in the morning Navy workouts. Perhaps the pool will reopen soon.
I swam some OK 400 metre races this year. But the sub-2:20 200 and sub-5:00 400 will have to wait for next season. I'm also going to hunting for a sub-29 in the 50.
I am going to enrol in a Pilates or yoga type of training group for better flexibility.
Plus it is going to be embarrassing to line up on the block next to John with him weighing 160 to my 180. So I'm really going to slim down to 165 for the first swim meet of the year next fall.